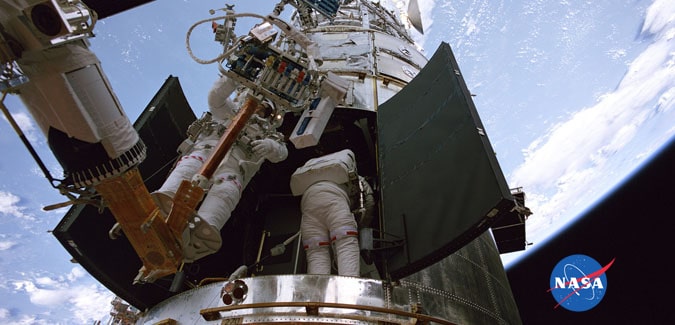 CORONA, Calif.  – NASA's upcoming launch for the final servicing mission for the Hubble Space Telescope (HST) is targeted for May 2009, and VIP Transport, a specialized transportation agent for Mayflower Transit, is very excited to watch the shuttle lift off from the Kennedy Space Center in Florida. VIP Transport provided the highly specialized transportation services for this project's history-making launch.
In its lifetime, the Hubble has revolutionized science and astronomy by providing clear views of the universe. Scientists have used the Hubble to measure how far away galaxies are and how quickly they are moving away. The telescope is responsible for numerous discoveries per week. The Hubble has also given scientists evidence of intriguing phenomena such as planets revolving around sun-like stars, and more detailed inormation on regions in space called black holes. This will be the final servicing mission for the Hubble telescope, which will extend the Hubble's life into the next decade by refurbishing and upgrading the telescope.
"VIP has supported NASA in its multi-varied missions from manned Shuttle Payload support at Kennedy Space Center in Florida to Balloon Gondola flights in New Mexico to remote Lynn Lake in Canada, which lacks paved roads, to Satellite Launches at Vandenberg AFB, California. The most visible support with NASA and VIP Transport has been with the Hubble Space Telescope during and including this, the fifth mission. With this mission, there will be one of a kind camera and spectrograph. Additionally, gyroscopes, batteries and thermal blankets will be installed in the telescope. VIP Transport has been a part of this history making endeavor," said NASA Logistics Management.
"We are truly honored to be a small part of these remarkable projects. The team at NASA is amazing and we know how privileged we are to provide services to them; we appreciate their trust they have placed in us over the years," said Dan Griffiths, CEO of VIP Transport.
Extensive preparation, planning and execution goes into the transportation of these projects. VIP's Specialized Services team plans with NASA's Logistics Management Specialists to provide the transportation requirements such as continuous movement, wide-load permits throughout the states, security clearances and vehicle escort services. VIP's generator powered vans allow monitoring systems to maintain electrical power to flight hardware.
"NASA requirements for the most part are scheduled; however, many times there is short notice or quick changing requirements. VIP has responded in an exemplary manner, providing support and exceeding expectations," said NASA.
VIP also assisted NASA with the recent Lunar Reconnaissance Orbiter (LRO) project, which is scheduled to launch this April. The satellite's mission is one of the first steps in NASA's plan to return astronauts to the moon. LRO will spend at least one year in a low polar orbit on its primary exploration mission, with the possibility of three more years to collect additional detailed scientific information about the moon and its environment. Supported by a team of NASA escorts, VIP transported the 12-foot wide and 15-foot, two-inch high container housing the LRO on a flatbed trailer from NASA Goddard Space Flight Center in Greenbelt, Md., to the Kennedy Space Center in Florida. VIP also provided five exclusive-use climate-control team loads that transported the support equipment for LRO.
"We are so fortunate to have the partnerships that we do and to provide support to projects such as the Hubble, is an honor.  We are a company that thrives on helping people and it's as simple as that.  It's our culture; and we have an incredible team at VIP." , said Brittany Johnson, Vice President.
VIP is no stranger to handling other sensitive or high profile projects.  They recently delivered the San Francisco Symphony to the Orange County Performing Arts Center in their climate vans as part as their 8 city tour for the West Coast.  In addition to science and medical equipment transportation, VIP also provides freezer transportation so that reagents and specimens can be transported under power, eliminating the need for dry-ice.  VIP has transported freezers and laboratories for prestigious Universities and Hospitals across the country.   In addition to VIP's Special Products Services, VIP also specializes in Corporate Relocation Services and is the Official Mover of the LA Kings and Golden State Warriors, moving their athletes and coaching staff when they change teams and relocate to their new city.
"In this economy, we believe that working with companies to provide the most cost effective and trusted service is a must.  We know many companies are faced with challenges right now and we believe it is our job to find ways to save them both time and money, whether they are transporting product or moving their employees across the US or around the globe," said Brittany Johnson, Vice President.
[fusion_builder_container hundred_percent="yes" overflow="visible" margin_top="20″ margin_bottom="20px" background_color="rgba(255,255,255,0)"][fusion_builder_row][fusion_builder_column type="1_1″ background_position="left top" background_color="" border_size="" border_color="" border_style="solid" spacing="yes" background_image="" background_repeat="no-repeat" padding="" margin_top="0px" margin_bottom="0px" class="" id="" animation_type="" animation_speed="0.3″ animation_direction="left" hide_on_mobile="no" center_content="no" min_height="none"][fusion_separator style="single"/]
Editor's note: A photo of VIP's truck and a video of the transportation out of Goddard is available on NASA's Web site, http://www.nasa.gov/mission_pages/LRO/news/lro_ship.html.
For more information about how VIP serves the Aerospace Industry, click here.[/fusion_builder_column][/fusion_builder_row][/fusion_builder_container]