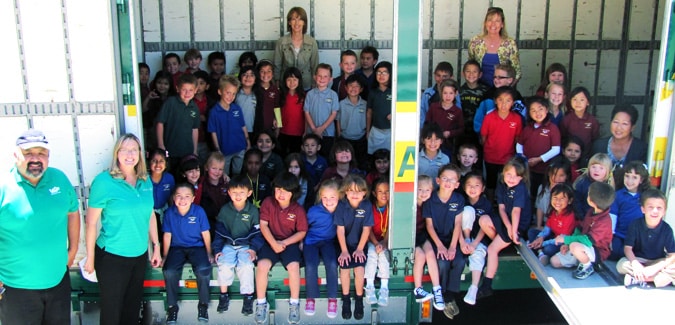 Changing the way students learn geography. 
Corona, CA- VIP Transport is pleased to be participating in Mayflower Transit's Discover America program at Nohl Canyon Elementary School in Orange, CA. Discover America is a community relations program that brings a unique and fresh approach to history and geography to fourth and fifth grade classrooms across America. Along with enhancing awareness and understanding of our country's geography, the program is designed to develop writing and mathematical skills while teaching students about everyday roadside safety precautions.
Discover America began in 1991 in Indianapolis when a local school wanted to have a Mayflower truck driver, who happened to be named Bob, meet with the fourth graders. The visit was a hit and the school district asked Driver Bob to visit all of its schools. The program soon grew too big for Bob to handle alone, and the Discover America program was born.
The students at Nohl Canyon met with a Mayflower van operator and received a tour of the van and cab while learning about packing procedures, weight capacities relative to average family homes, fuel capacities, and other duties performed by moving teams. The driver, personifying the "Driver Bob" character, will correspond with the students as he makes his run across the country through thought-provoking letters, postcards, souvenirs, and other information highlighting the geographical features of each area. Back in Orange County, the students will be able to follow Driver Bob's progress on a map supplied by Mayflower as a part of their geography lesson.
"VIP Transport is proud to be a participant in Mayflower's Discover America program," said CEO Laurie Griffiths, who accompanied Driver Bob on the visit to Nohl Canyon Elementary. "It's a wonderful opportunity for the students and we are grateful to share our experiences and stories with them. It was amazing to see their excitement and interest when touring the truck and talking to our driver- what a fantastic supplement to a geography lesson!"
VIP Transport is a Corona, CA-based agent for Mayflower Transit. In business since 1982, VIP offers unrivaled experience and highly trained movers for a variety of relocation services. From residential and corporate relocations to transporting specialized and high-value items anywhere in the world, you can trust VIP Transport to provide you with the ultimate in customer satisfaction and support throughout your move.