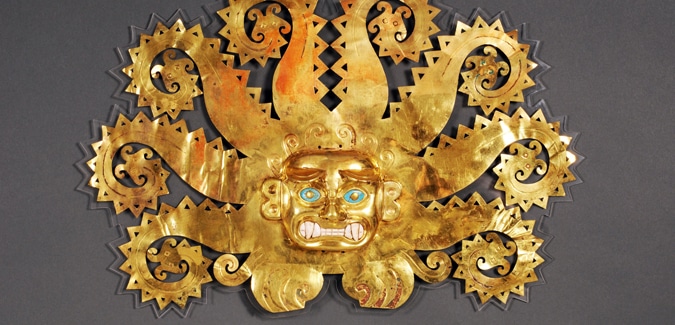 Peru is a country with over 5,000 years of history, one of the most diverse nations on the planet and a destination that holds artistic history of a land rich in complexity and startling beauty. The Seattle Art Museum (SAM) is honored to host Peru: Kingdoms of the Sun and the Moon, a major exhibition of Peruvian art that includes rarely seen sculpture, metalwork, painting and textiles spanning 3000 years. This exhibition displays an extensive collection of pre-Columbian treasures and masterpieces from the colonial era to Indigenism, including over 100 pieces that have never before been seen outside Peru. With more than 370 works of art (paintings, sculptures, gold and silver ornaments, pottery, photograph, works on paper, textiles and videos) from almost fifty public and private collections, including more than thirty Peruvian collections but also some from the United States, France, Germany and elsewhere in Canada, this exhibition covers 3,000 years of history, including archaeological discoveries in recent decades. Taking a novel approach to Peruvian art, the thematic organization reveals crosscurrents of ideas and artistry through time and the symbolic role that art plays in the construction of cultural identity. The Seattle Art Museum is proud to be the only U.S. venue presenting this spectacular exhibition of more than 300 works, including national treasures never been seen outside of Peru. Each work has a place in history, and together, they provide an expansive view of the deep and complex artistic heritage of Peru.
Headquartered in Corona, Ca., VIP Transport Fine Arts Services, is honored to have been awarded the responsibility of transporting and handling the entire Peru: Kingdoms of the Sun and the Moon exhibition, from the Montreal Museum of Fine Arts to the Seattle Art Museum and its return. This exhibition comprises over 300 works of art, including fragile and irreplaceable artifacts, paintings, sculptures, metals and textiles and was exclusive cargo in one of VIP Transport's specialized high cube, climate controlled trucks providing the highest protection for transporting these ancient artifacts. Due to the natural materials that some artifacts were composed of, VIP Transport's knowledge of U.S. and Canadian Fish and Wildlife regulations made for a seamless and successful transport through international borders. In addition, because of the high profile and value of this precious cargo, a representative from the exhibit traveled as a courier along with VIP's drivers. This exhibition was on view at the Seattle Museum of Art October 17, 2013 through January 5, 2014.
Photo Courtesy of MUSEO DE LA NACIÓN, LIMA, Photo ©DANIEL GIANNONI.