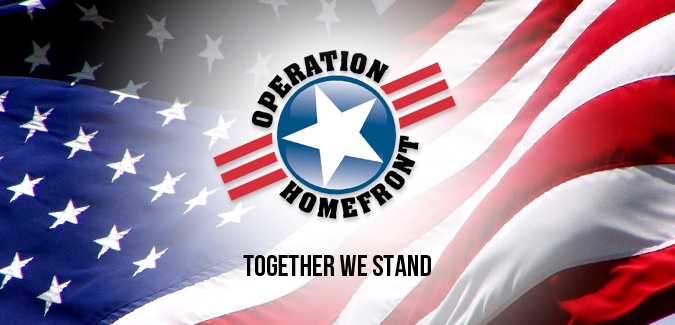 Our service members and their families are heroes to us. Some are everyday heroes and some are uncommon ones. Most would not consider themselves heroes; rather they tell us they were just doing their job. Doing their job, means risking their lives to help protect and preserve our freedom. Operation Homefront, a national nonprofit organization, leads more than 4,500 volunteers with nationwide presence, providing emergency and other financial assistance to the families of service members and wounded warriors. Operation Homefront, headquartered in San Antonia, TX has met more than 750,000 needs of military families since its inception in 2002 and earned the coveted four-star rating from Charity Navigator for seven consecutive years, a feat accomplished by less than 3% of all evaluated charities. Accredited by the Better Business Bureau and holding an "A" rating from the American Institute of Philanthropy, nationally, 95 percent of total donations to Operation Homefront go directly to programs that provide support to our military families.
VIP Transport, a Corona, CA based agent of Mayflower Transit and trusted home relocation provider, is proud to have partnered with Operation Homefront and donate our services to help a wounded warrior and his family in desperate need. The soldier, who lost his arm and was badly burned and scarred, was unable to physically move the family's belongings himself and could not afford the cost of hiring movers. Making their situation even more desperate, due to unforeseen circumstances, the family had very little time to move all of their belongings from their home in Springs, MD to their new residence in Charlottesville, VA. "Operation Homefront is fortunate to have made a connection with VIP Transport who generously donated services to move a wounded warrior and their family", shared Cyndi Lucas, Communications Outreach Specialist with Operation Homefront, DC Metro chapter. "VIP Transport not only committed to the move on short notice but provided excellent service to a military family in need."
For more information or to find out how you can help support Operation Homefront, visit www.operationhomefront.net.