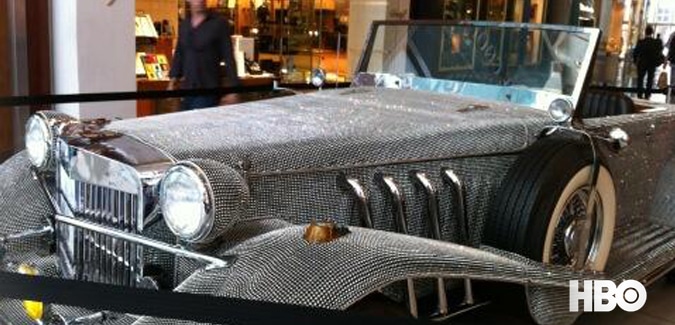 VIP Transport was proud to take a small part in HBO's new film, Behind the Candelabra. HBO brought some of the stunning artifacts from the Liberace Foundation in Las Vegas, Nevada to the Time Warner Center in Manhattan, New York. VIP assisted with transporting some of the high value items. Liberace's featured possessions include the world's largest rhinestone, the famous crystallized Baldwin grand piano, and his sparkling rhinestone roadster. His roadster matched a stage costume and his Baldwin piano that was used in his 1986 performance at Radio City Music Hall. Also included on the tour were his Emmy award and infamous flamboyant costumes, some valued at over $100,000 a piece. HBO's film, "Behind the Candelabra" looks at his life surrounding his younger lover. Władziu (or Vladziu) Valentino Liberace, best known as Liberace, had a career that spanned four decades of concerts and movies. He was one of the highest paid entertainers in the world in the 1970s.
VIP took part in the transportation of Liberace's artifacts for both the delivery to Manhattan and the return back to Las Vegas. The items were protected in VIP's climate vans for preservation of the items and transported by a driver team to expedite the shipment and accommodate display dates and times. Driver teams are usually required to assist tour schedules and tight deadlines for displays or even items on contract that need to be returned immediately.
"We are honored to be a part of this tour that represented both a lead figure in entertainment as well as assist in the promotion of show for HBO," said VIP Transport.