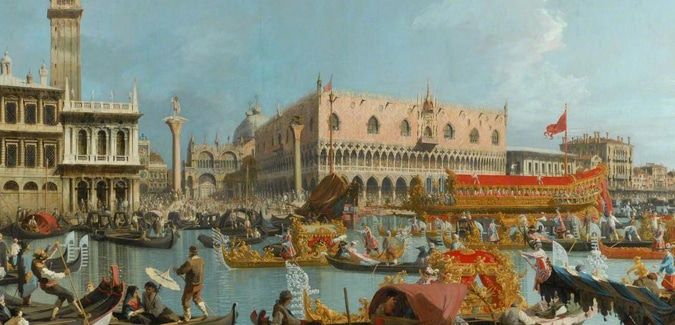 More than two centuries ago, Venice was not only the world's most beautiful city but also a rich and powerful republic with a deep history of art and music. At the Montreal Museum of Fine Arts (MMFA), paintings such as Canaletto's doge's barge returning to quayside at St. Mark's after the Feast of the Ascension is one of many treasures of
Splendore a Venezia
, an innovative interdisciplinary exhibition organized, developed, produced and circulated by the MMFA, exploring for the first time the important interrelationships between the visual arts and music in the Venetian Republic. This ambitious exhibition combines Venetian art and music from the Renaissance to the Baroque.
Due to the outstanding loans from 61 prestigious museums and collectors from prominent international collections, the exhibition unveils in stunning fashion, over 120 paintings, prints, drawings, historical music instruments and musical manuscripts and texts, including the first edition of The Four Seasons by Vivaldi. Visitors to Splendore a Venezia, equipped with head sets, listen to music directly related to the paintings they are seeing, then can move on to musical scores from the Renaissance and displays of historic instruments and art work. "At the Montreal Museum of Fine Arts, it is now equally impossible to see without listening or to listen without seeing." –said Nathalie Bondil, Museum Director and Chief Curator. This exhibition is also honored to receive the high patronage of His Excellency Mr. Giorgio Napolitano, President of the Italian Republic.
Headquartered in Corona, Ca., VIP Transport Fine Arts Services, unrivaled in global logistics is proud to have been chosen to transport the entire Canadian exhibition: Splendore a Venezia from the Montreal Museum of Fine Arts to the Portland Art Museum in Oregon. The 120- piece exhibition of paintings, prints, musical instruments and manuscripts were exclusive cargo inside of 2 highly specialized climate controlled trucks with dual driver teams, ensuring the highest protection and shortest driving times for these historical treasures to reach their destination. Due to the sensitivity of these artifacts, a representative from the exhibit traveled as a courier along with VIP's team drivers, who traveled in tandem for added security and protection. VIP's fine arts expert's knowledge of CITES licensing requirements for the natural materials contained in some of the art pieces, made for a seamless and successful transport through international borders. This exhibition will be circulated by the Montreal Museum of Fine Arts to the Portland Art Museum in Oregon from March 7, 2014 through June 8, 2014.