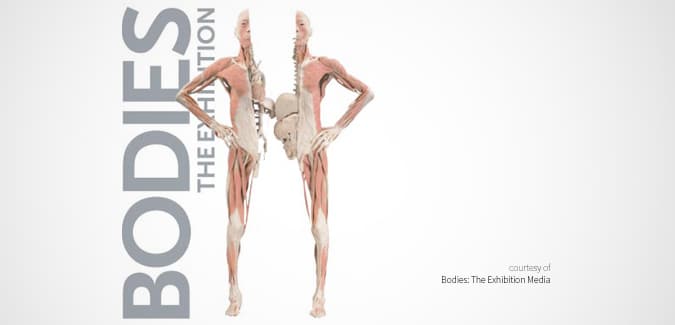 Experienced by more than 15 million people worldwide,
Bodies… The Exhibition
provides an intimate and informative view into the human body. Using an innovative preservation process, the Exhibition showcases more than 260 full body, organ and partial body specimens providing a 3-dimensional vision of the human form rarely seen outside of an anatomy lab. These real human bodies have been meticulously dissected and preserved by a process called "polymer preservation" in which human tissue is permanently preserved using liquid silicone rubber that is treated and hardened. The end result is a rubberized specimen, preserved to the deepest cellular level, showcasing the complexity of the body's many bones, muscles, nerves, blood vessels, and organs. The full- body specimens can take over a year to prepare and become impervious to decomposition, giving visitors the opportunity to view the beauty and complexity of their own organs and systems. Some of the specimens are arranged so that they are performing activities such as playing poker or conducting an orchestra, while other displays show a human intestine stretched out, the polluted lung of an adult smoker, and all of the arteries and veins without the body itself.
VIP Transport Fine Arts Services, is proud to have partnered with Premier Exhibitions for BODIES: The Exhibition to transport pieces of this exhibit from New York to Buena Park, Ca. VIP utilized one of their specialized climate controlled vans for the highest protection of the exhibit's sensitive pieces, which included full body, organ and partial body specimens. VIP used team drivers to meet the strict delivery schedule and minimize the time in transit as the shipment was extremely temperature sensitive. Upon reaching the final destination in Buena Park, Ca., the Museum's air conditioning system went down and VIP was able to accommodate and protect the shipment by keeping exhibit artifacts in our climate controlled trailer over the weekend. The exhibit was delivered safely to the museum Monday morning after the air conditioning was up and running. This exhibition is currently on view at the Premier Exhibition Center, former Movieland Wax Museum in Buena Park, Ca. until 2015.
Headquartered in Corona, Ca., the VIP Transport Companies are dedicated to serving all of your relocation needs. Whether you are moving your family across the street or around the world, or relocating an employee for a corporate assignment to a new location, our award winning staff and experienced drivers will care of you every step of the way. With one of the largest specialized fleets in the country, VIP Transport offers the best solution for transporting specialty items such as medical equipment, aerospace components, medical laboratories, wine cellars and much more.