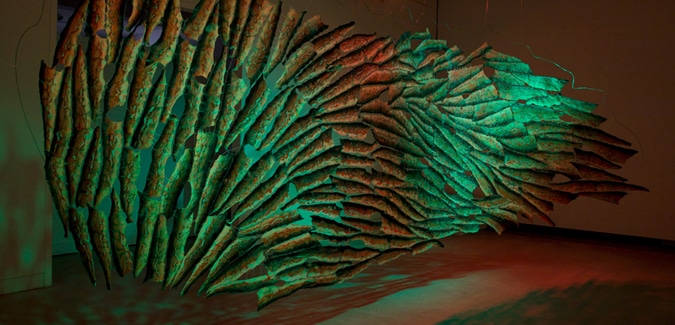 CORONA, Calif: A native of South Dakota and a graduate of South Dakota State University, Carol Hepper's "Inside the Between" exhibit strongly reflects the sights and experiences of growing up on the American plains. Her sculptures are composed of items discarded by nature, and include animal skins, bones, and branches. Hepper brings the aforementioned materials together to create nomadic structures or other objects that capture the irregularities of nature. One of the marquis pieces to the exhibit is titled "Hanging Island," a fish-shaped panel constructed of 200 preserved and painted salmon skins that is 10 feet tall and 20 feet long. Despite its size, the wall only weighs five pounds and will writhe and reflect lights in the gallery like a fish swimming in the wild.
Due to the amazing fragility of each of the exhibit's pieces, VIP Transport's fine art experts were tasked with transporting "Inside the Between" from location to location along its tour. Stops included Billings, Montana; Brookings, South Dakota; and Fargo, North Dakota, with the final stop being the artist's studio in New York City. The exhibit was exclusive cargo inside one of VIP Transport's climate-controlled vans, ensuring maximum protection to the sensitive materials that make up each piece. Special care must be taken by the driving teams and handlers, and VIP's Vice President of Fine Art personally oversaw the delivery to Ms. Hepper.
VIP Transport is a Corona, CA-based agent for Mayflower Transit. In business since 1982, VIP offers unrivaled experience and highly trained movers for a variety of relocation services. From residential and corporate relocations to transporting specialized and high-value items anywhere in the world, you can trust VIP Transport to provide you with the ultimate in customer satisfaction and support throughout your move.