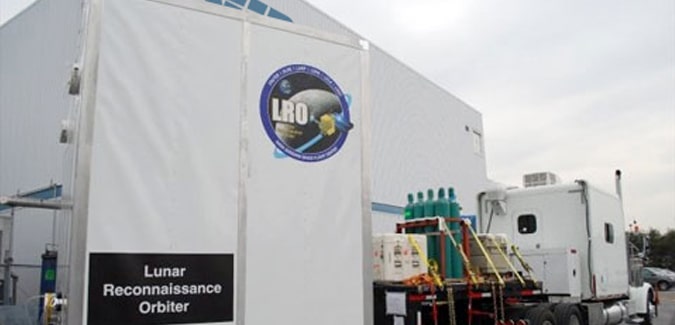 VIP successfully delivered the Lunar Reconnaissance Orbiter (LRO) for NASA to the Kennedy Space Center in Florida. The satellite's mission is one of the first steps in NASA's plan to return astronauts to the moon. LRO will spend at least one year in a low polar orbit on its primary exploration mission, with the possibility of three more years to collect additional detailed scientific information about the moon and its environment.
Please click on the link at the left of the page for the exciting information that we are so proud to be apart of. Our VIP Transport and VIP East teams provided the complete coordination, operations and all ground transportation support for the NASA LRO project.
VIP transported the 12' wide, 15'2" high container housing the LRO on NASA's flatbed trailer along with a team of escorts from NASA Goddard Space Flight Center in Greenbelt, Maryland to the Kennedy Space Center in Florida.
In addition to transporting the LRO, VIP had five exclusive use, climate control, team loads that transported the LRO support equipment.
[fusion_builder_container hundred_percent="yes" overflow="visible" margin_top="20″ margin_bottom="20px" background_color="rgba(255,255,255,0)"][fusion_builder_row][fusion_builder_column type="1_1″ background_position="left top" background_color="" border_size="" border_color="" border_style="solid" spacing="yes" background_image="" background_repeat="no-repeat" padding="" margin_top="0px" margin_bottom="0px" class="" id="" animation_type="" animation_speed="0.3″ animation_direction="left" hide_on_mobile="no" center_content="no" min_height="none"][fusion_separator style="single"/]
Read More about this mission on the NASA LRO Spacecraft webpage
See the LRO Preparation for Transport in this VIDEO
For more information about how VIP serves the Aerospace Industry, click here.[/fusion_builder_column][/fusion_builder_row][/fusion_builder_container]