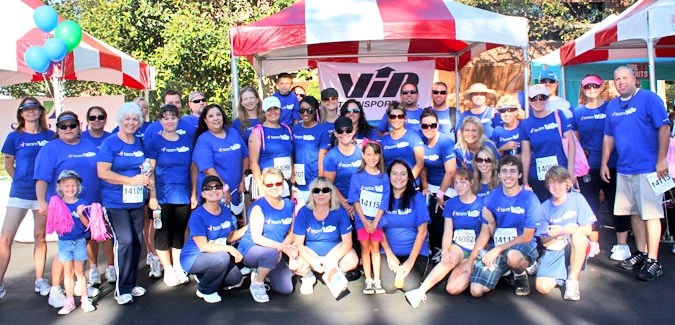 VIP Transport, located in Corona, CA continues to make special efforts to do their part to give back to their community and participate in events to raise money for good causes.  VIP and its employees participated in the largest Susan G. Komen race in California, the Race for the Cure in Newport Beach, CA on October 27th.  Komen for the Cure is the world's largest grassroots network of breast cancer survivors and activists fighting to save lives, empower people, ensure quality care for all and energize science to find the cures. Komen Race for the Cure, has invested nearly $1 billion to fulfill this fight against cancer, which is the largest source of nonprofit funds dedicated to the fight against breast cancer in the world.
VIP encouraged everyone to 'join our team and save a life'.  The company pledged to contribute all race fees for any VIP employee that wanted to participate.  VIP also extended the pledge to any VIP employee's family and friends.   The VIP goal for the 5k race was to have each participant raise $125.00 each, which pays for a life saving mammogram for one person.  The inspiring race gathered a total more than 30,000 participants, raising over $2.5 million dollars for the fight against breast cancer.
Breast Cancer affects 1 in 8 women and without a cure, an estimated 5 million will be diagnosed with breast cancer and 1 million could die over the next 25 years.
"Unfortunately, this disease has affected many that are very close to us, both within VIP and to our employee's families – so this was a very special cause to us.  The race was amazing and very moving; and I think everyone left that day inspired by the survivors, families, friends, and companies coming together to raise awareness," said Brittany Johnson.
The company has formed 'Team VIP', which leads and creates ways to give back to the community and care for the environment.  The team is already working on its next project for the holidays.  "Giving back to our communities where we live and work is a part of our job and our responsibility.  It really is inspiring how getting our group together for a cause, even if it is in small steps, can make a difference and help others."