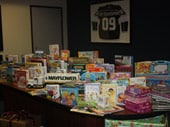 This year, VIP Transport, wanted to do something special for the local community and adopt a cause that would help the less fortunate during the holidays. That is when they discovered 'The Foundation', which is a non-profit organization that assists low income families with needs such as clothing, preventative care and healthcare, and parenting classes. During the meeting with the director of the Foundation, Annie Bradshaw, VIP discovered that some of these children who receive support from the organization have never owned their own books or have any books at home to read.
"When that was shared with us, we knew that we had to get involved. We knew we could easily reach out to our employees and friends and ask for new or used books for these children. Something so treasured as a bedtime story or reading for pleasure is not possible for these kids. We could try and hopefully change that this holiday season for some of these families." said Brittany Johnson.
VIP raised almost 500 books.
"We were amazed at the generosity of our team at VIP. Everyone reached out to their friends and family and the books poured in. Today, there are so many studies on the positive effects of reading and to be able to provide a gift that can also help in a child's development made it such a great thing to do." Shea Blackerby, Business Development, who coordinated the fundraiser.
The books were delivered and given to the families that receive support from the Foundation. "The Foundation for Community and Family Health is so grateful for the support of VIP Transport, Inc. and their holiday book drive. For the children in our organization, in most cases, this will be the first book that they can call their own – to see the look on their face when they received one of these books was priceless and we thank VIP for that." Said Stephanie Goldowski of the Foundation for Community and Family Health.