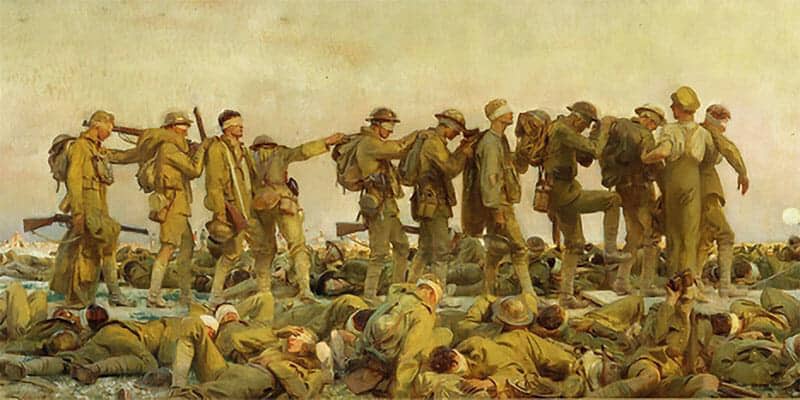 "Monumental," says The New York Times. "A masterpiece," the Daily Mail praises. "Epic," says the Associated Press and "extraordinary," describes The Guardian.
What's the focal point of all their praise? John Singer Sargent's painting, Gassed.
The painting was completed in 1919, and has slowly been gaining more and more acclaim over the decades. The Guardian listed the piece as one of "1,000 Artworks to See Before You Die," and British historian Jon Snow named it in one of the "10 Best British Artworks About War."
The painting depicts British soldiers following each other, hand to each other's shoulder, on their way to the medical tent after being gassed on the Western Front. Other soldiers lie at their feet, their eyes also covered in bandages. Rather than creating a painting for shock value, Sargent honed in on the fact that this was a part of everyday life.
Sargent had been sent by the British government to "contribute the central painting for a Hall of Remembrance for the World War." Stationed in a British dressing station to the southwest of Arras, France, he witnessed this scene of the aftermath of a mustard attack, and knew it was going to be the subject of his painting. The painting measures 9 by 21 feet.
"Cultivate an ever continuous power of observation. Wherever you are, be always ready to make slight notes of postures, groups and incidents. Store up in the mind…a continuous stream of observations from which to make selections later. Above all things get abroad, see the sunlight and everything that is to be seen," remarks Sargent.
Kansas City's National World War I Museum and Memorial opened its doors to its newest exhibit space, the Wylie Gallery, which features Gassed as its primary piece. The new 3,500 square foot space was built underneath the deck of the Liberty Memorial. Due to the painting's size, specially sized doors needed to be created in order for it to fit through.
Senior curator Doran Cart weighs in on the addition the museum. "It's full of incredible scenes that Sargent saw when he was on the Western Front…It was truly from life, what was going on at the time," says Cart. "When visitors come into the gallery, that's exactly what they're going to see."
The painting has made its way from Philadelphia to New York to Nashville before resting in Kansas city. Because Gassed is an oil on canvas painting, it cannot be folded or rolled without damage. Therefore, it must be transported in a crate that is as large as it is—a crate that weighs more than a ton.
Combining an extremely heavy crate with a very delicate painting presents a unique transportation challenge that requires very specific knowledge of fine art. VIP Transport moved Gassed, using a climate-controlled truck, white glove service, and our expert driver teams. We were honored to take on this challenge, and to ensure that this national treasure arrived safely in its temporary home in Kansas City.