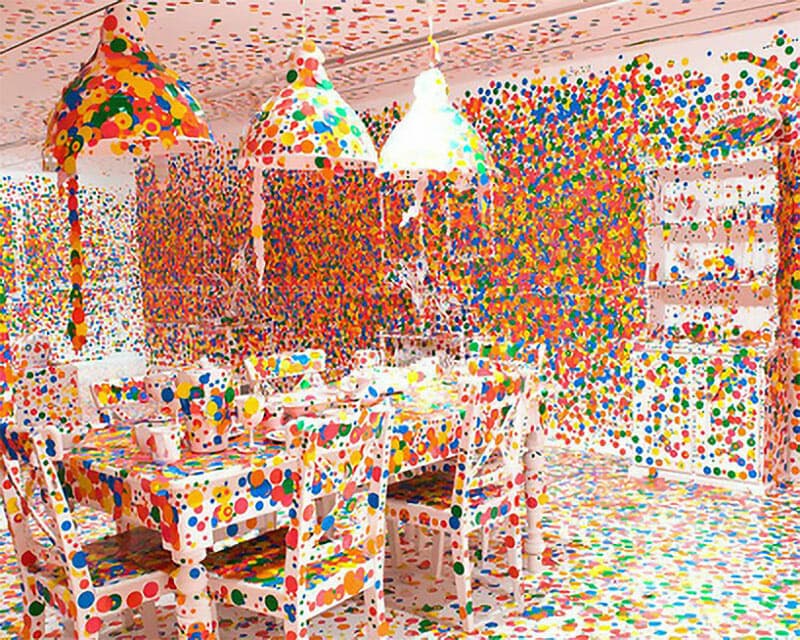 After a successful tour at the Cleveland Museum of Art in Cleveland, Ohio, the Yayoi Kusama: Infinity Mirrors exhibit will be continuing its journey to the High Museum of Art in Atlanta, Georgia. The exhibit sold out completely during its Cleveland tour, and advanced tickets for the High Museum of Art tour have already sold out.
The Yayoi Kusama: Infinity Mirrors exhibit is the most comprehensive collection of the Japanese artist's work to tour North America in more than twenty years. Organized by the Smithsonian Institute's Hirshhorn Museum and Sculpture Garden, the exhibit has toured its way around North America, bringing the avant-garde artist's vision along with it.
Yayoi Kusama was born in 1929 in Matsumoto, Nagano. Her family was affluent, but her childhood was marked by the strain of her father's extramarital affairs and her mother's disdain of her creative work, and creative work in general. Her mother often sent her to spy on her father and try to catch him in the act of cheating, which prompted Kusama's lifelong aversion to intimacy in relationships.
"My mother beat me and kicked me on the derriere every day, irritated that I was always painting…When I left for New York, my mother gave me $1,000,000 yen and told me never to set foot in her house again," she explained.
Due to the psychological trauma she suffered during her childhood, Kusama centers much of her art on mental health awareness, and says many of her paintings are inspired by hallucinations she experiences. These hallucinations were the inspiration for her creation of "infinity nets" or fields of polka dots. Polka dots are the focus and trademark of her work: it wouldn't be a Yayoi Kusama collection without thousands and thousands of them.
"My life is a dot lost among thousands of other dots," says Kusama.
The exhibit features popular installations and pieces from Kusama's illustrious career. Her kaleidoscopic The Souls of Millions of Lightyears Away and her unforgettable The Obliteration Room are only two of the brilliant installations included in this exhibit.
The Obliteration Room is an interactive space that began as a completely white area, filled with couches and tables and desks: a living room void of color. Visitors were invited to enter the room and use provided polka dot stickers to decorate the space. The end result is an explosion of textured, haphazard color that can't help but capture the imagination.
Yayoi Kusama: Infinity Mirror consists of six large-scale infinity mirror rooms that guests can enter and marvel at: when entering into the rooms, it appears as if the floor has disappeared and only a room of mirrors and polka dots remains. In addition to these rooms, the exhibit also holds an array of Kusama's paintings, sculptures, film excerpts, works on paper, archival ephemera, and other large-scale installations.
"After all, well, moon is a polka dot, sun is a polka dot, and then, the earth where we live is also a polka dot," says Kusama.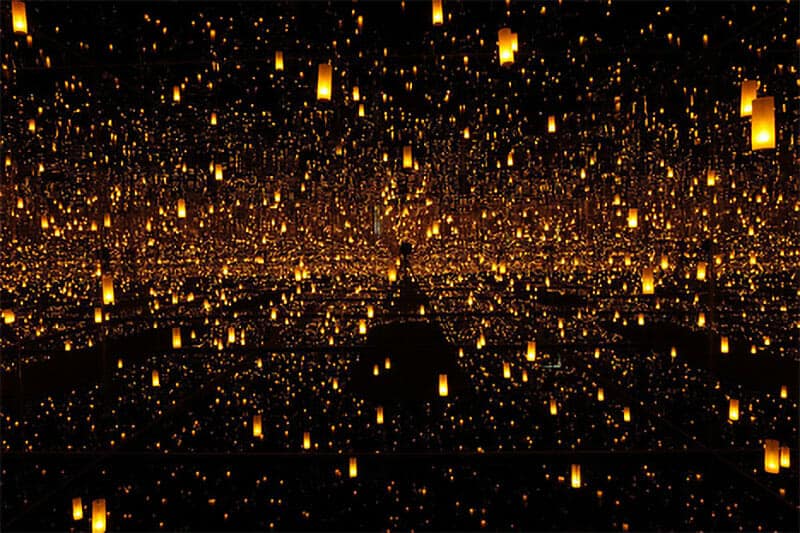 As powerful as Kusama's works and installations are, they are still made up of many delicate pieces. VIP Transport's highly specialized team had the honor of transporting the exhibit, which totalled over 100,000 pounds. The artwork was moved four separate times on its tour, with each round of transportation using a six-man driver team, along with climate controlled trucks. We are proud to be a part of allowing museum-goers around the country to experience this historic exhibit.