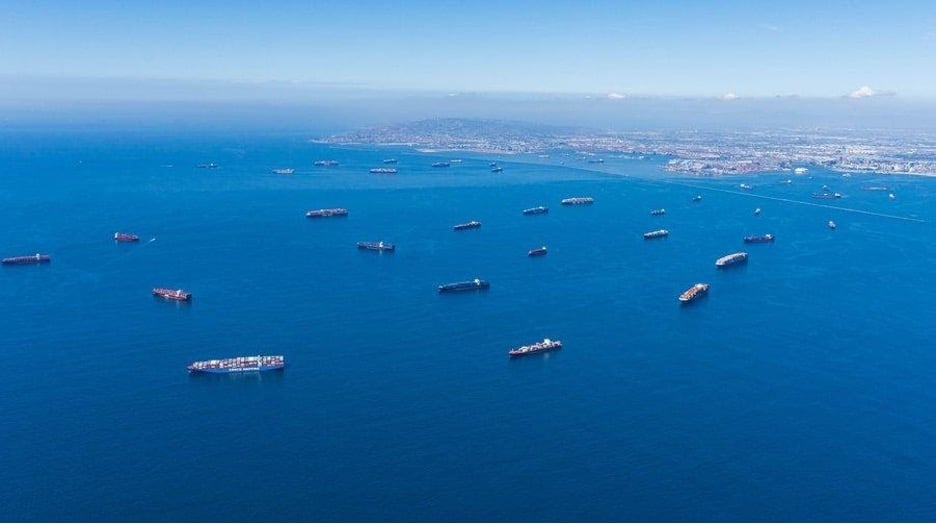 Hundreds of ships are waiting at U.S. ports. Buying a car, new or used, is more difficult than ever. Online shopping is now plagued with delays, "out of stock", and "back-ordered" notices. Logistics and moving companies have been impacted by labor shortages and delayed shipments. All this is interconnected with our economy. This is the supply chain crisis.
What is the Supply Chain Crisis?
In short, this crisis is the result of not having enough resources available to meet the renewed and growing demand for goods and services. An increased volume of goods needing to be shipped, coupled with labor and driver shortages, limited space in shipping yards and warehouses, have created a perfect storm we all are feeling called the supply chain crisis.  
How It Happened
The pandemic caused major ripples through the economy. Online orders have skyrocketed, and demand has grown so rapidly in the past two years that this growth equates to about 50 million new Americans joining the economy. Initially, when COVID-19 shutdowns stopped the world in March 2020 to "flatten the curve", organizations and manufacturers halted their operations and stopped producing goods in preparation for limited demand. This led to a limited to no surplus of inventory, ships sitting idle or docked, and no forecast for a rebound in sight.
Unfortunately, the world didn't calculate two major points: 1) eCommerce would continue to blossom and grow tenfold and 2) the economy cannot resume to pre-pandemic production levels at a flip of a switch. Resources and consumer goods take weeks, months, and sometimes years to reach their destination from the start of production to delivery at one's doorstep. The shutter on global trade stopped any and all production.
Shipping containers at the Port of Long Beach, CA Photo credit: DENNIS SCHROEDER / NREL
Crisis at Our Ports
Keep in mind that manufacturers in the U.S., and the rest of the industrialized world, have long outsourced the production of common and low-cost products to China and other low-wage countries. This range of goods includes the bigger ticket items we are seeing impacted today, such as cars and appliances, to common tech products like cell phones and computers. Manufactures even outsource everyday products like clothing, footwear, textiles, furniture, and plastic goods.
All these outsourced goods must then be brought into the U.S., typically by freight. Two of the largest ports where these goods enter into the U.S., Los Angeles and Long Beach, saw a 30% increase with 28% fewer workers than pre-pandemic levels to process the cargo. Considering that 40% of all goods coming through enter from one of these two ports, this only worsened the situation and created a massive backlog.
Earlier this week, there were 80 container ships anchored at the Port of Los Angeles. All these vessels placed end to end equal 91,863 feet, or about a 17.4 miles long traffic jam! Before the pandemic, ships rarely anchored offshore.
FedEx, UPS, Walmart, and Home Depot have committed to 24/7 per week operations in an effort to lift supply chain issues over holidays. This comes on the heels of a new law, AB 701, passed in September, which attempts to regulate warehouse operations like Amazon's targeting quotas. Its sponsor, Assemblywoman Lorena Gonzales, was also the sponsor of AB 5, which targeted independent contractors and created a ripple throughout the trucking industry.
Drivers waiting to load containers at Port of Long Beach, CA Photo Credit: DENNIS SCHROEDER / NREL
Driver Shortage Is at An All-Time High
Once goods arrive at the ports, 70% are moved by truck to their final destination in the U.S. This means we heavily rely on our drivers to get goods to their final destinations. That doesn't sound much like a crisis, right? Unfortunately, our driver workforce is well below what is needed. In the next decade, the American Trucking Association (ATA) estimates a need for an additional 100K+ qualified drivers. The trucking industry is currently at a modern-day deficit of 80,000 drivers and continues to grow! Truck drivers are the piece of the puzzle that keep the ports clear, the stores full of merchandise, and ensure packages arrive at your door. A continued loss to the driver pool will spell further disaster to the crisis at hand.
VIP Transport Driver, Tim Connell delivering goods in CA. Photo credit: VIP Transport
Another threat to the trucking industry and its drivers is the vaccine mandate. While the American Trucking Association (ATA) supports the vaccine mandate, they believe additional regulation to the industry's already severely depleted fleet will cause additional bottlenecks and only extend the supply chain crisis.
Commercial Truck Production Has Slowed
A hot topic this year has also been the car shortage that is partially made worse by the chip shortage. Basically, a shortage of computer chips has slowed new car production so much that used cars are now becoming more valuable to meet the demand for cars.
This scenario is playing out in the commercial trucking industry as well. Some moving and logistic companies simply don't have enough trucks to move goods. Major carriers like FedEx and UPS are also feeling this need for additional vehicles in order to keep up with their growing deliveries. To solve deficiencies in their fleets, they are looking at unconventional resources. Often used for the "DIY" moving experience, these major carriers are now resorting to renting Penske and U-Haul Trucks, as pictured below. As a result, a once cost-effective means to move yourself has almost tripled in price due to limited availability.
U-Haul trucks are being used to supplement a UPS fleet. Photo credit: Driver, Chris Allen
Everyday Movers Are Feeling the Squeeze
All these shortages and pinches have slowly but surely made their way down to the average person looking to move. One major headache some movers and "do-it-yourselfers" are facing is a rental truck shortage. With the "Great Resignation" came "The Great Reshuffle" – the title given to the overwhelming number of people relocating. The pandemic has made many rethink their work or life, and many are exploring other housing options as a result. For instance, in 2020, over half of the Bay area's U-Haul rentals were one-way reservations out of the state. This resulted in limited equipment during an atmosphere of high demand, an increase in the cost of a do-it-yourself move, and equipment positioned in less than ideal areas with no ability to get those rentals back to the original market.
With big carriers dipping into the commercial rental truck supply to keep up with demand, this means that the average family moving across town may be out of luck when they go to move. Not only are moving trucks in short supply, for the lucky few that manage to find a truck the price might be inflated. Depending on where you are going, some rental truck companies have doubled their prices.
Ships waiting to get into the Port of Long Beach and Port of Los Angeles, Oct 2021. Ports of Los Angeles and Long Beach—which handle 40 percent of the country's containerized imports—have moved 17 percent more containers between January and mid-October than they did in 2018. Photo credit: Alamy
When Will It End?
Economists say strong consumer demand for goods in the West, ongoing port congestion in the U.S., shortages of truck drivers, and elevated global freight rates will continue to hang over any recovery for the foreseeable future. The risk of more extreme weather and flare-ups of Covid-19 cases can also threaten to clog up supply chains. However, retail executives say they expect the U.S. port backlogs to clear in early 2022, after the holiday shopping season and when Lunar New Year shuts many factories for a week in February, slowing output.
Port congestion has lifted some areas as a direct result of deregulation. Once regulated by hours of service, The Port of Los Angeles will be shifting to 24/7 operations, following a similar transition by the Port of Long Beach in September of this year.
Though the outlook is uncertain, the world will continue to drive demand and force the hands of leaders to resolve the crisis. And like many great obstacles in our past history, a solution or adaptation will come, sooner or later.
With so many variable factors contributing to the supply chain crisis, it is important to utilize a carrier that has its own driver fleet and is part of a vast network for service options. As part of the Unigroup Logistics, United Van Lines, and Mayflower Transit network, VIP Transport has the capacity and capabilities to provide better service options for your moving and logistics needs. So next time you see a shortage in your local store or gasp at the rental truck prices, remember how the bigger picture is affecting it all.