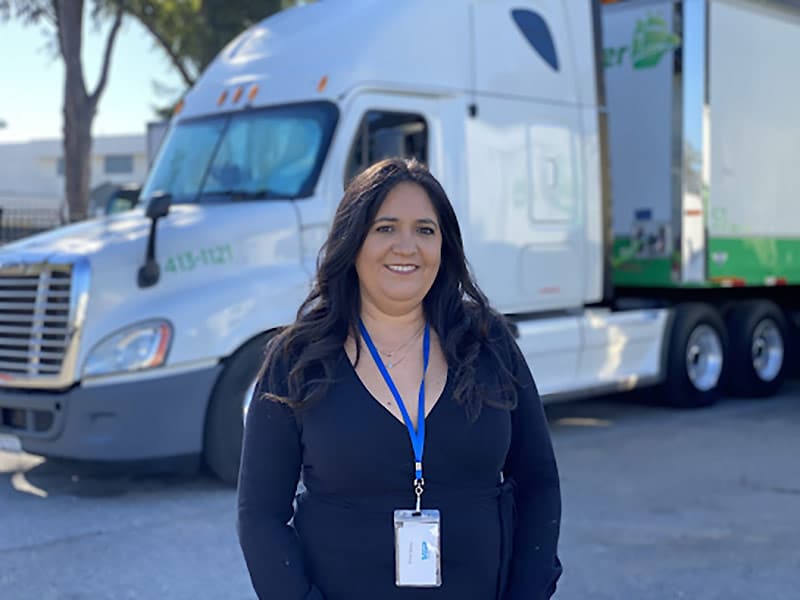 VIP Transport's Director of Operations, Erica Ganey, oversees VIP's long haul fleet of drivers and Special Products Planning teams.
Girl Power: A Look at Women in the Transportation Industry
Take a moment to imagine a truck driver.
You probably think of a man in a big rig, cruising down the highway onto his next delivery. Initially, you probably wouldn't envision a woman in that role. Why is this the case?
Women comprise 47% of the workforce overall in the United States, and yet, only 6% of commercial truck drivers are women. This number gap needs to close for various reasons, including filling a driver shortage and increasing representation. But the good news is that the amount of women in the transportation industry is slowly starting to rise – and it's about time.
Why do we need more women in the transportation industry?
We need women in the transportation industry, because the gender diversity issues are doing more harm than might initially be recognized.
In general, there is a huge shortage of drivers overall across the industry, with 80,000 more drivers needed in 2021 alone to keep up with growing demand. If women can't be recruited as well, the shortage of drivers will only continue to increase. By marketing to and recruiting women, transportation can begin to solve its issue of depleted fleets, among other needs in the logistics world.
The Benefits of Hiring Female Truck Drivers
One major part of the industry that needs more women workers is trucking. As mentioned, in the past, drivers have stereotypically been men. If there were more women drivers, the landscape might look different.
For starters, women commercial drivers are:
20% less likely to be involved in a crash.
45% less likely to participate in logbook violations.
60% less likely to commit hours of service violations.
Women are also more loyal to their organization and less likely to quit driving once they start.
Male dominance has not been isolated to driving. In transportation and logistics companies across the board, there is a shortage of women in leadership positions. Women are needed to play a key role in operations and upper management positions. Their attention to detail, ability to multitask, and empathy are all things typically associated with a woman's skillset, and crucial for the development of organizations.
Women tend to consistently outperform men when tested for their EQ (Emotional intelligence.) For inspirational leadership, coaching, organizational awareness, and adaptability, women scored higher than men in all categories.
What are steps that can be taken to assist women drivers?
There are some physical hurdles to closing the gender gap in transportation, particularly when it comes to female drivers. Women in Trucking Association president Ellen Voie points out that truck cabs tend to be built for someone of a large physical stature – usually a man. The association has been instrumental in working with the design teams of manufacturers to aid in the design of trucks for females.

"Their smaller and shorter stature makes it harder for women to reach the controls and get the seats adjusted into a comfortable position while keeping their feet on the pedals. When you are driving days at a time —except for the rest breaks — you have to be comfortable," Voie says. With this issue brought to light, more trucks are being outfitted to fit people of all sizes.
Tractor brands like Freightliner and Peterbilt have both made efforts to improve the design. Freightliner has added greater adjusting seats and telescoping wheels for ergonomic support, automated transmissions, better lighting and security systems, and larger appliance options for better living conditions while traveling.
Peterbilt looked to women to get input on designing new models, and one feature was adding a panic button in the sleeper for the safety of women. Shown is the Peterbilt's Ultraloft, credit: Peterbilt
The WIT continues to urge truck stops to install better lighting, more surveillance, and fencing.
It's significant to note that 83% of the women came into the industry because someone told them about the job. Here's what we can do to get the word out about adding more women to the field.
What can be done to attract more women as drivers in the transportation industry?
There's a laundry list of actions that should be taken to encourage equality. Websites and marketing should be updated with more inclusive photos of women, so they can picture themselves in the role. Bathroom availability needs to be improved, and driver lounges should be gender-neutral to encourage inclusivity. Greater safety efforts and measures need to be taken from truck stops to the design of trucks to accommodate women.
Some trucking companies are targeting women via social media posts and advertising to bring awareness about the need for drivers, which is a great start to driving change.
Jalyn Damico of Golden Eagle Moving in Upland, CA oversees 26 local drivers and crew for moving and logistics. "I enjoy the fast pace of the transportation industry and I love what I do."
To get more women involved in the transportation industry, companies need to showcase the positive aspects of the job, remind people how the workplace is evolving, and share recognition of females who are excelling in male dominated fields.
Hearing from Women in Transportation
VIP's Operations Planner, Andy Lasater, has singled out Charlene Howard as one of the most respected drivers that he has worked with in the industry:
"We work with many drivers, and Charlene has risen to the occasion time and time again. She is a great partner to work with, always putting the customer first. She gets the job done and does it very well, going to any area of the country, and is very pleasant to work with. She is one of the best drivers that I have worked with," said Lasater.
Howard started driving with her husband, but then decided to get her license and run independently. She had left her driving career to focus on building a family, but later returned to get back on the open road.
"[M]y career as an owner operator has given me financial independence, and the freedom of choice to grow my business in the direction of my choice. I travel all over the U.S. and get to meet interesting people. It has been very rewarding hauling freight essential to our country. VIP has been a great partner in helping me achieve my goals. I love what I do!"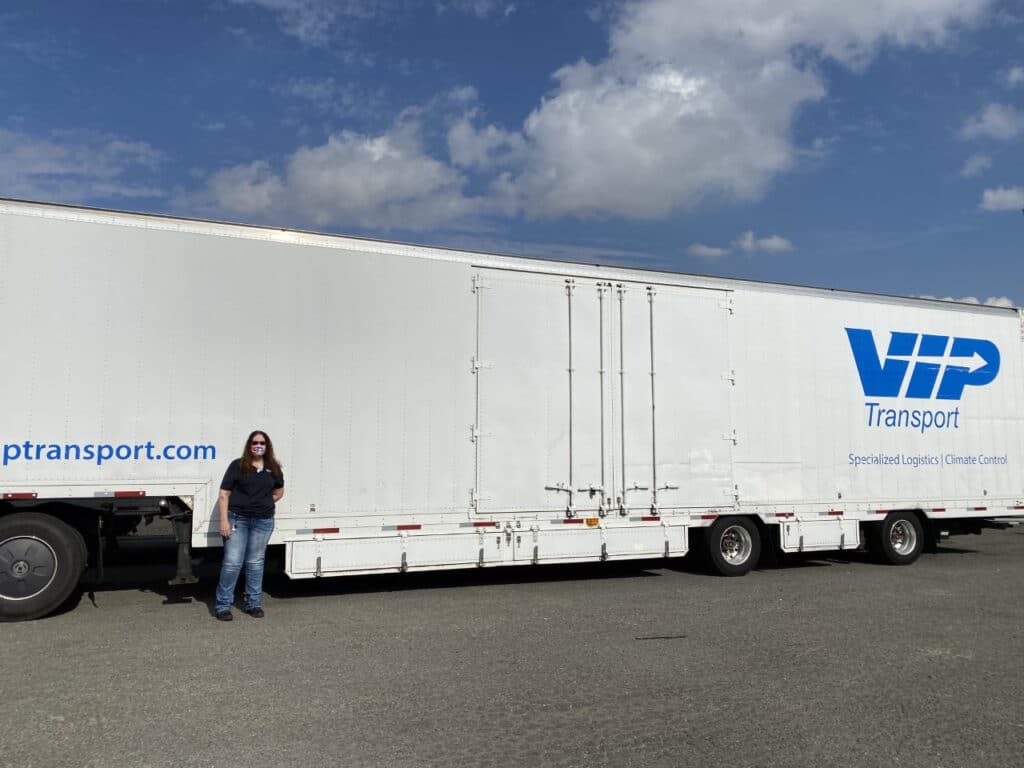 Husband and wife team Gregg and Cynthia Napoles get to travel together while they manage their business on the road.
"When my son joined the US Airforce and my daughter went to college, I decided to join my husband, Gregg, who was a driver. It was great to travel and see different places across the US. I eventually told my husband that I wanted to drive, too. It was never something that I pictured myself doing, but I was determined, and my husband was very supportive of me doing this. I went to a trucking school and got my CDL. Now we are team drivers in our own successful trucking business," says Cynthia.
"Being a team allows us to manage our time driving for safe deliveries. This career is perfect for me and I enjoy being a partner in our business. I earn more than I have in my previous jobs and I get to spend time with my husband. I am very proud to be a female in a male-dominated field."
The Napoles team has been recognized for numerous safety awards through Unigroup. VIP's Director of Operations, Erica Ganey, praises qualities that Cynthia brings in working with the Napoles team.
"Gregg and Cynthia Napoles are definitely a responsible and dependable team. On top of that, Cynthia brings a great element to the team. She is an excellent communicator and is very easy to work with. If there are last minute changes by a client or even issues, her great communication can help solve problems and can make our jobs so much easier and more successful," says Ganey.
Driver Cynthia Napoles "earns more as a driver than her previous job and gets to spend time with her husband."
Ganey also speaks about notable accomplishments of female drivers. "Of the driver teams we work with, these females have not just gotten their CDLs, they play a significant part in transporting very high end specialized product for us, sometimes on very tight demanding schedules," she says. "They have very valuable and time sensitive shipments onboard such as spacecrafts for NASA, musical equipment for San Francisco Symphony tours, or multi-million dollar art exhibits."
Some of those specialized shipments include a requirement to be HAZMAT certified. Team driver Jennifer Rossi did not have any hesitation about obtaining her HAZMAT certification for highly specialized or hazardous loads. "I took on this challenge of getting my HAZMAT to diversify the loads we can haul, and knew it would provide more opportunities for me as a driver," she says.
Rossi is a mother of three and grandmother of two from Massachusetts, whose passion for driving started twenty years ago as a bus driver. Later, she decided to get her class A license to take over the team operations for her father-in-law, along with her husband.
"I would recommend this career for a woman. We are growing in the industry and proving our worth. I would tell other women to accept the challenges as learning experiences, it will make you a better driver," Rossi commented. "Take it slow and enjoy the ride: you might learn something new about yourself. I have never been happier working."
Team Driver Jennifer Rossi: "We are growing in this industry and proving our worth."
Careers and potential earnings in transportation
Women can be enticed to join the industry if more information is spread about the potential earnings of a job in transportation. A heavy haul or oversize driver can make up to $90,000 a year, with other roles like independent owner-operators and teams that can make in the neighborhood of $350,000.
Because of the truck driver shortage, pay scales for truck drivers are only going up. Local drivers and regional drivers can make over $50,000 a year to start, and be home on evenings and weekends to be with their families. Owner operators also have flexibility of taking off time when needed as they are in control of their business.
Mentoring has been shown to be a key retention tool in welcoming women into the industry. In a sector where they're misrepresented, having a program in place for other successful women to mentor and recruit potential counterparts can help boost numbers.
"I think there is a huge potential for women to contribute more in our industry," said Laurie Griffiths, CEO of VIP Transport. "Everyone can play a part by supporting other females or by being mentors to help them transition into leadership or management roles." Griffiths also sits on the Board of Directors of Unigroup, which has only had a handful of women on the board over the years.
Perhaps the most difficult obstacle to overcome in order to get more women into the transportation industry is the stereotype that it is, in fact, a male dominated industry. This won't be an overnight fix, mostly because women will continue to be less likely to go into an industry that they think is male-centric. Seeing other women portrayed in the industry and normalizing their roles can slowly impact perceptions.
Representation matters, because it helps break down stereotypes and biases about what a leader looks like. Seeing different types of leaders helps pave the way for more opportunities for others. Still, the statistics show that leaders tend to be white and male.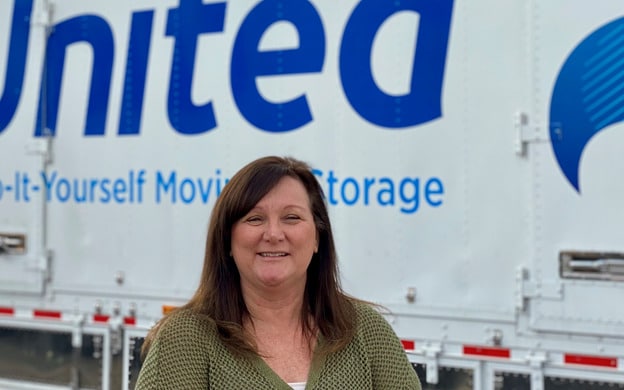 VIP Transport is proud to be a Certified Women Owned company (WBENC) and member of Women in Trucking (WIT), and continues to make efforts to provide women equal opportunity in the workplace.
"We have many leadership positions throughout our organization that are held by women, including Directors, Operations Management, and top level management positions," says VIP Transport President Brittany Johnson. "We are very proud to partner with several women owner-operators and hope to work with more in the future. We have experienced that the female drivers that we have worked with have been outstanding and bring great value with their skillset."
VIP currently partners with ten female owner-operators out of a fleet of over fifty, which is a high percentage by industry norms.
Johnson goes on to emphasize the importance of celebrating those accomplishments by women. "It's important to recognize those who have demonstrated leadership and celebrate and share those accomplishments to inspire and share for others to see. We also believe that part of the success is attributed to having a supportive environment – and everyone recognizing each other for the contributions each person brings regardless of gender."
There is a long way to go to change statistics, but every step matters to create a more equitable environment throughout the industry.
For opportunities within the VIP organization, or for owner operator partner opportunities, we'd be happy to hear from you. Apply to join our team today.