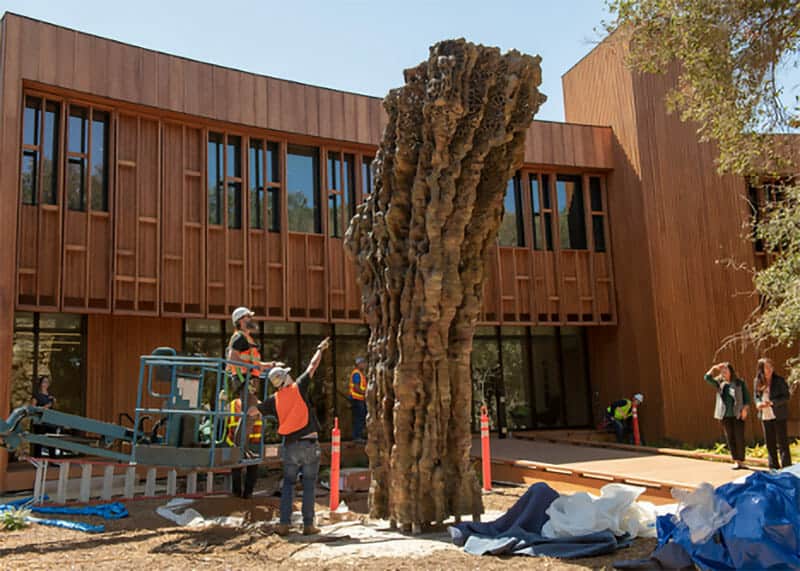 Serving as a beacon for visitors and students alike, Ursula von Rydingsvard's sculpture, MOCNA has found its new home at Stanford University's Denning House.
MOCNA, an impressive bronze sculpture that incorporates metallic fretwork and internal LED illumination, is a large-scale abstract work created by von Rydingsvard. Standing at an incredible 17 feet, MOCNA was commissioned specifically for the Knight-Hennessy Scholars of the Denning House at Stanford. It is the first piece in the program's art collection.
As far as the name of MOCNA, von Rydingsvard had this to say: "Titles do have a meaning for me, but I don't want them to have that meaning for anybody else. For this reason, many of the titles I give my works are in Polish and are often not translated." Most of her work, like MOCNA itself, then, is visually striking, a pleasure to behold, and a complete mystery as far of meanings of titles go.
"Ursula von Rydingsvard's MOCNA is a fitting inaugural work for the new collection," says Roberta Bowman Denning, the former chair of Stanford's Arts Advisory Council sitting on the Denning House art committee, "It is a powerful sculpture, with delicate pierced openings and gentle evening light, and will serve as a beacon for both scholars and visitors."
Von Rydingsvard is a well-known sculptor whose work has taken permanent homes in many public locations like this, as well as over thirty museum collections. Among these pieces are Anastazia at Giardino della Marinaressa in Venice, Italy, SCIENTA at the McGiven Institute for Brain Research of the Massachusetts Institute of Technology, and URODA at Princeton University's Andlinger Center for Energy and the Environment. Her work is often large-scale, and the sheer size alone makes the pieces a sight to behold. She takes pride in bringing softness and movement to typically-rigid materials.
"Von Rydingsvard's use of bronze transcends traditional processes, incorporating metallic fretwork and internal LED illumination. Positioned at the threshold of Denning House, the monumental work commands the attention of those who enter," said Susan Dackerman, the John & Jill Freidenrich Director at the Cantor Arts Center. "MOCNA joins a distinguished collection of sculptures at Stanford, including one of the largest collections of works by Rodin in the U.S. at the Cantor."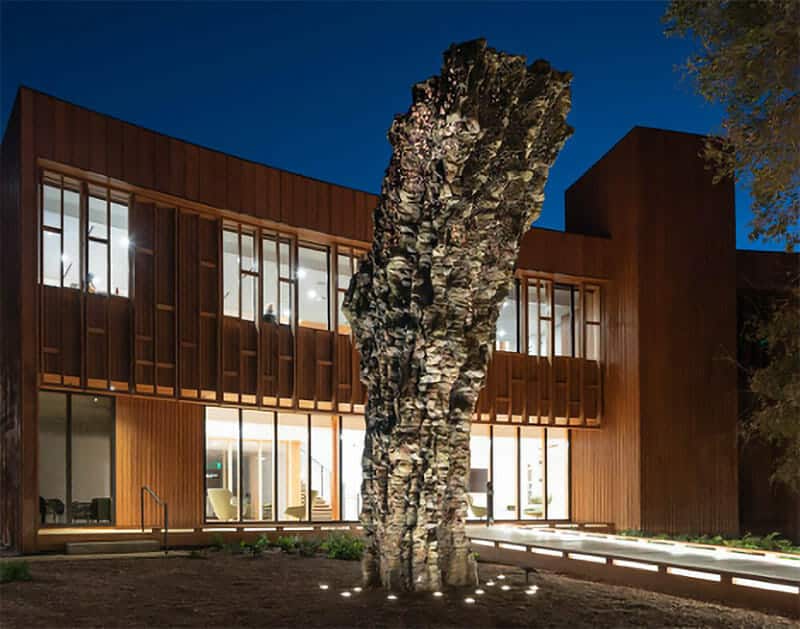 From the city of Lockport in Niagara County, New York, VIP Transport carried MOCNA almost 3,000 miles to its final destination in Stanford, California. After making the long trek across the States using a flatbed, MOCNA was delivered safely, to be later carefully installed on the grounds. Von Rydingsvardwas present while the sculpture was initially being installed, and later returned for a formal reveal and to discuss the piece with scholars.
VIP Transport is grateful to have been a part of the process that brought MOCNA to the Denning House. When a 17 foot, 14,000 pound sculpture needs to be relocated, we know there's no one else out there that can do it better than VIP Transport's Fine Art division. Not only are we pleased to see the beginning of an incredible collection at the Knight-Hennessy Scholars program's new building, but we are also glad to be trusted with such an incredible and important work of art.