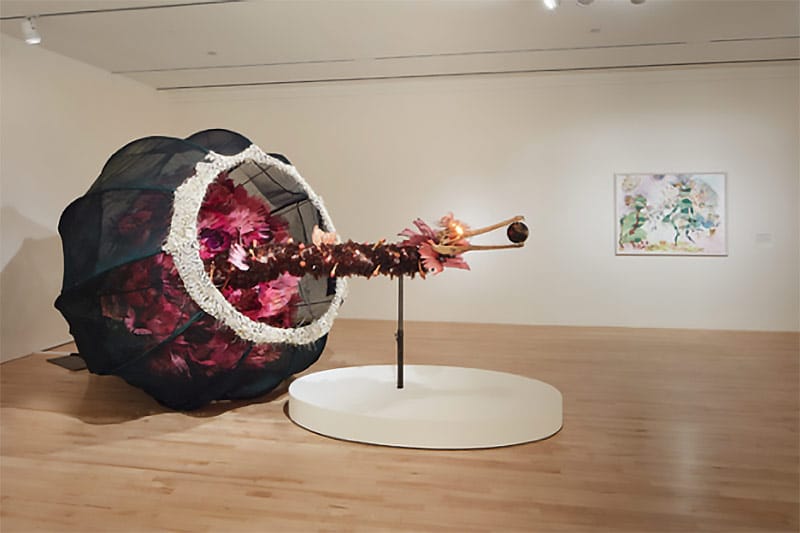 Ethereal flowers. Whimsical sculptures draped in feathers and gossamer strands. Bold and vivid creations, straight from the imagination. Those are the visuals you're hit with when you step into the dreamland created by Rina Banerjee.
Banerjee's work was displayed at the San Jose Museum of Art, where she showcased her first mid-career retrospective. Banerjee's collection is composed of paintings and drawings, but the main showstopper? Delightfully colorful installations that take on a life of their own in the exhibit, spilling onto the floor, levitating on a wall, or creeping along the baseboards.
Banerjee was born in Calcutta, India in 1963, but moved to London, England, as a child, and eventually moved on to get her Bachelor of Science in Polymer Engineering at Case Western University. Not stopping there, she left the sciences completely and received her Master in Fine Arts from Yale University in 1995.
Her intricate pieces fascinated the world, but she never forgot her roots. "Feeling like the immigrant makes you always feel like you don't belong," Banerjee says, "and that you are an intruder and you are trespassing."
Sourcing material from every corner of the globe, Banerjee makes it a point to mix and match her carefully gathered objects into one beautiful explosion of color. In one sculpture alone, a whole number of different elements emerge: light bulbs, South Asian antiques, Murano glass, and African Tribal jewelry. It only makes sense that her gallery would be named Make Me a Summary of the World.
"I get a real charge from ancient Tibetan, Himalayan, and Indian art. I am obsessed by the clouds in Chinese and Tibetan paintings and their representation of strange creatures and mystical worlds…Both Eastern and Western references are deposited in the work," says Banerjee. Continuing to evoke allusions to a strange creatures and mystical worlds, Banerjee gives her pieces bright and imaginative titles. "Disrobed, torn, ripped by wind, in open ocean, in land, in this far, far exterior shipwrecked with boastful flesh on land's edge she landed" is just one title of one of her paintings.
From Banerjee's point of view, objects are not fixed things. Because they can be used and applied in so many different ways, each different use takes on a meaning of its own. Her goal is to scavenge for mutable objects, for ones that "have been released, no longer owned by the owner, [so they're in some sense like orphans. For me finding the objects means to go into the dark forest. The object I believe remembers the past owner, has in them alive the memory and historization that is created out of individual people."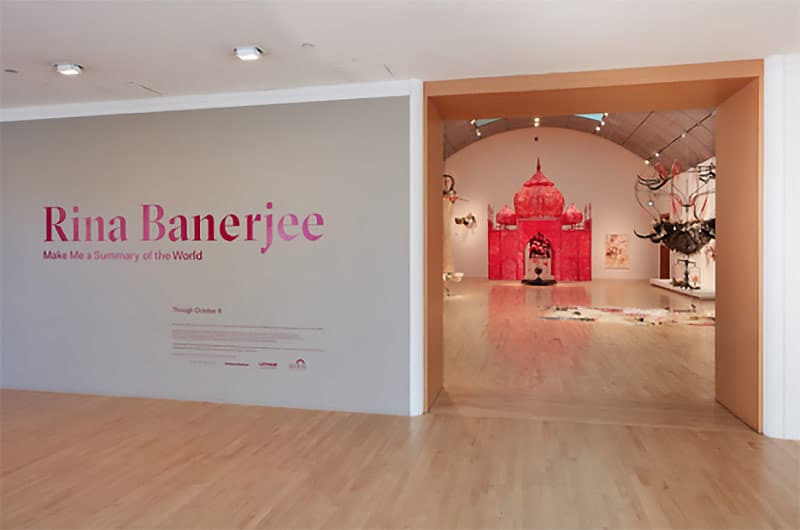 Such fragile, intricate works of art require exceptionally delicate care when being transported to different museums across the country. VIP Fine Arts Services was called on when it came to this important task. Banerjee's delicate sculptures were moved from Philadelphia to San Jose using climate controlled vans to ensure they were delivered in the most protective environment. If you want total peace of mind when moving fine art or exhibit tours, contact VIP Transport Fine Arts Services today.