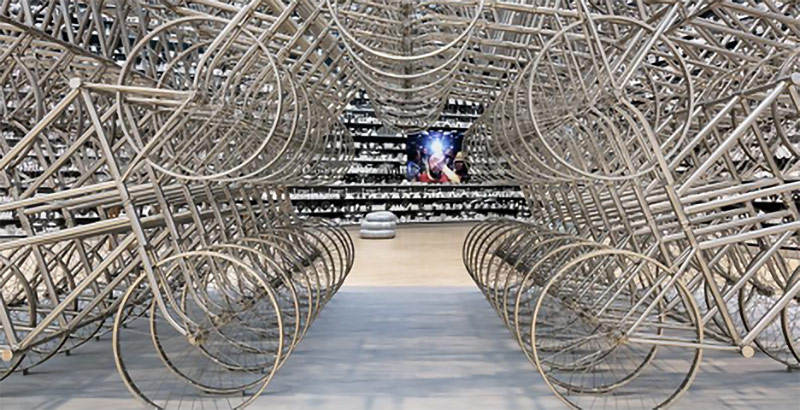 Bare life. When you hear that phrase, you might not know what to think. Perhaps you get an image of minimalism. Slightly empty, not a lot of color. Or maybe you think of something fresh, a blank white page. When artist Ai Weiwei titled his exhibition Bare Life, he thought of something completely different.
Showcased at the Mildred Lane Kemper Art Museum, Ai Weiwei: Bare Life earns its name from Italian philosopher Giorgio Agamben's writings. Agamben argues that "there exists a 'hidden tie' between sovereign power and biopolitics, forged in the exceptional basis of State sovereignty." He believes that "bare life," then, is excluded when it comes to the government. Or, very basically, that many simple pleasures are denied when people have a ruling power over them.
With this concept in mind, Weiwei created the works for his exhibit. Drawing upon a difficult childhood, where his father was a well-known figure in China who was imprisoned by a Nationalist government on suspicions of protest, Weiwei produced art that mirrors the practical skills he was forced to learn. Harsh living conditions required he made furniture and bricks to support his family instead of getting an education. After the death of Mao Zedong in 1976, Weiwei moved to New York and began to study fashion, absorbing the culture and artistic atmosphere of the state. In 1988, he began to make his own works.
"Creativity is the power to reject the past, to change the status quo, and to seek new potential. Simply put, aside from using one's imagination – perhaps more importantly – creativity is the power to act," Weiwei says of what he wants to evoke through his work.
Bare Life showcases unusual pieces like Forever Bicycles, where Weiwei used 10,000 bicycles and suspended them above the ground in an other-wordly, poignant display that acted as a metaphor to his home country. Next to that, Odyssey spans two entire walls of the gallery, depicting the journey of displaced people who were forced to flee from their homelands.
"I always want people to be confused, shocked, or realize something later," says Weiwei. Entering into a room and seeing such an overwhelming quantity of bicycles probably does the trick.
Through was also displayed for the first time in the United States, an enormous structure that is intended to prompt an analysis of how modern life causes us to break from tradition. Large wooden pillars criss-cross their way through the museum, intersecting through tables. Weiwei is creating a parallel between his work and the way that political strife caused tremendous strain to China's history.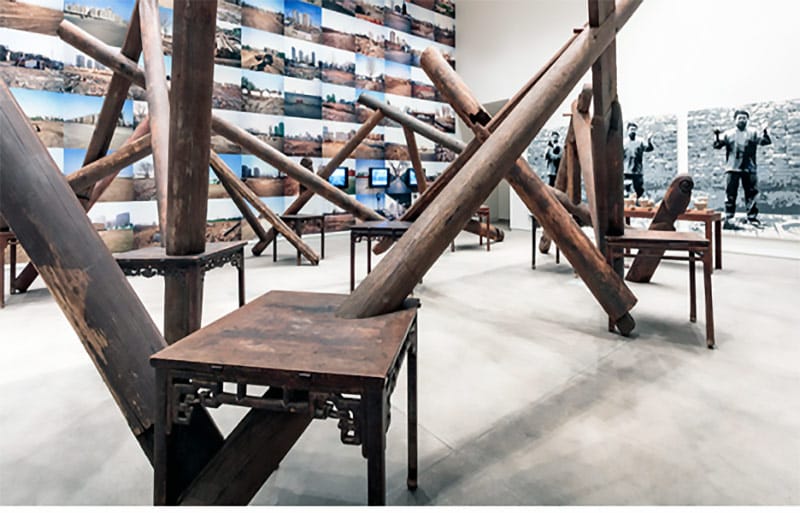 Exhibits this large and noteworthy require a fine art shipping expert that has the capacity for multiple truckload exhibits and tours. VIP Fine Arts Services provided three climate control vans to transport this important exhibit from St. Louis, Missouri, to New Castle, Delaware. When you're planning on moving an exhibit or a multiple truckload art exhibit, there's no one else more experienced, and more trusted, than VIP Transport.