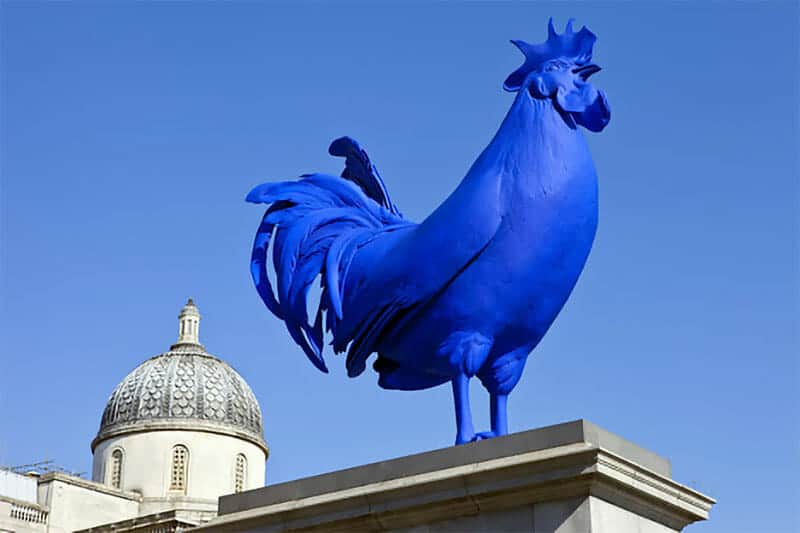 If you've never heard of Hahn/Cock, you'd probably look at this photograph and ask, "What's that big blue rooster doing up there?"
If you had heard of it, well – you'd probably be asking that, anyway.
Hahn is the German name for rooster, and cock, of course, is also the English name for rooster. The double entendre of this sculpture is not missed on the artist – in fact, it was an intentional choice. Katharina Fristch is a German artist who has created not one, but two of these large, cerulean birds.
Fritsch is known for her contemporary sculptures, which pit the worlds of reality and imagination at odds with each other. The resulting surrealist works are typically a play on a familiar object with some kind of creative twist: like a massive blue rooster. Most of her works are done in striking colors and in large scale, further striking a cord of surrealism through a twist of expectations.
Of the colors she chooses for her sculptures, Fritsch describes, "It evens it out, makes it abstract – like a visual sign, an icon. That is important: my work is always on the borderline between a detailed sculpture and a sign."
The first Hahn/Cock sculpture stood over fourteen feet tall at Forth Plinth at London's Trafalgar Square from 2013 to 2015. Commissioned by the City of London's series of temporary public artworks, all who walked by it on the street could stare up at it and question its meaning. In 2017, another rooster sculpture, this time thirteen feet high, was created to go on display in the Minneapolis Sculpture Garden at the Walker Art Center.
The original Hahn/Cock didn't live in London forever. In 2015, it was transported into storage to prepare it for its new home. VIP Transport orchestrated the move from from start to finish, carefully handling the precious piece. It was driven to the National Gallery of Art in Washington, D.C, where it still currently amuses any onlookers with its whimsical coloring and tongue-in-cheek title.
Katharina Fritsch describes herself as a feminist, and explains her perspective as she traveled through Britain. "As a German woman, when I first came to London, the area around Trafalgar Square seemed to be very much focusing on men – especially with fashion, with Jermyn Street. You have all these dandies, all these businessmen in their suits, who have to be powerful and successful. And they are a little bit posing like cockerels."
VIP Transport is proud to be presented with the opportunity to move such monumental pieces of art. With decades of expertise, we know Hahn/Cock was placed into the right hands. We're happy to know this striking rooster is bringing amusement to people's lives in Washington, until it's time again for it to find another nest.