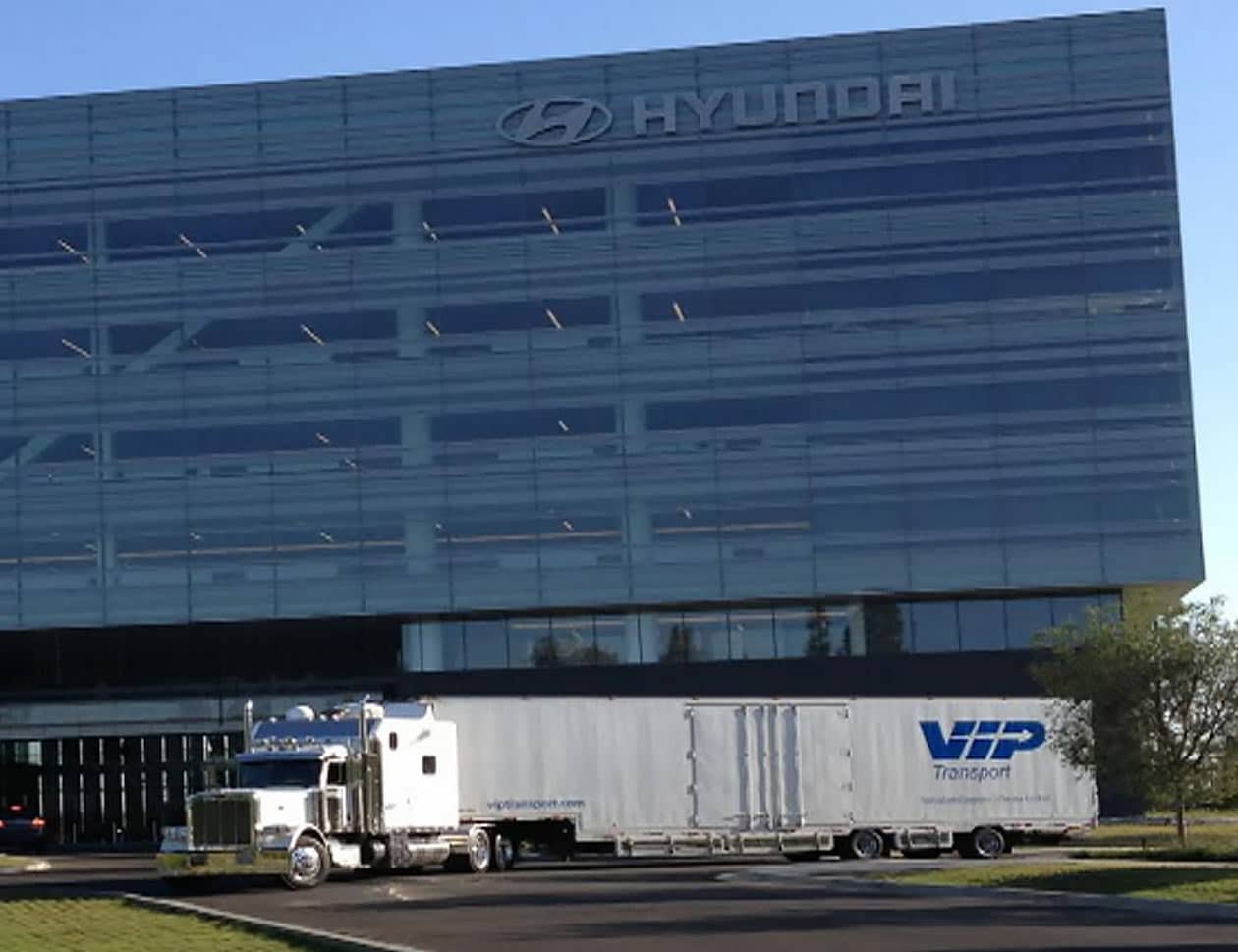 Fountain Valley, Ca. – Hyundai Motor America, has moved into their $200 million U.S. headquarters complex just off the San Diego Freeway in Fountain Valley. The new headquarters represents the largest investment in an office building ever made in the U.S. by Hyundai Motor Company. Hyundai sold 703,000 cars in the U.S. in 2012 and has outgrown the Fountain Valley facility it moved into move than 20 years ago. They demolished its old building and spent over $200 million on a new facility that will more than double its size to 500,000 square feet and incorporate beautiful architectural interest.
Architectural Design
Designed by global architectural firm Gensler, the building is sleek and modern, yet classic in its design, with translucent glass office floors floating over a precast concrete base, and exterior perimeter glass panels.  Rather than using ordinary reflective glass, Hyundai is using custom-designed large insulated glass panels that are specially glazed to provide optimal energy efficiency, as well as exceptional visual clarity from both inside and outside the building.  This design is part of Hyundai's goal to achieve gold-level LEED-certification for its new headquarters.  Leadership in Energy and Environmental Design (LEED) is an internationally recognized green building certification process assessing the sustainability of a building's design, construction and operations.
Relocation
Headquartered in Corona, Ca., VIP is proud to have partnered with Hyundai Motor America including its global Information Technology services company, Hyundai Information Service North America (HISNA) and its affiliated company, Kia Motor America (KMA) in relocating their Costa Mesa and Irvine facilities. "We were honored to assist the Hyundai Motor companies with their relocation to their beautiful new facility in Fountain Valley, CA", said Shea Blackerby Russell, VIP Transport Director of Business Development. "We've been relocating their employees for several years and we were thrilled to be a part of such an amazing project!  We are grateful for the continued opportunity to work together with an amazing company."Due to the consolidation into one facility, the move was completed over several phases and included a different move plan for each location.  To minimize employee interruption during normal work hours, VIP drivers, crews and supervisors were scheduled after normal business hours and worked through the night. The relocation included careful planning for the designated floors in each facility moving into the 6-story new building. Hundreds of employees were relocated during this process with entire departments of office equipment, video components, files and cubicle contents.  In order to achieve a successful move, VIP assigned their specialized office division crew and was managed by the team of VIP's Operations Manager, Senior Sales Consultant and the National Account Relocation Manager.
VIP Transport Company
VIP Transport is a Corona, CA-based agent for Mayflower Transit. In business since 1982, VIP offers unrivaled experience and highly trained movers for a variety of relocation services. From residential and corporate relocations to transporting specialized and high-value items anywhere in the world, you can trust VIP to provide you with the ultimate in customer satisfaction and support throughout your move.
For more information on VIP Transport services and capabilities, please call 800.998.4847 or visit the company's website at https://viptransport.com.