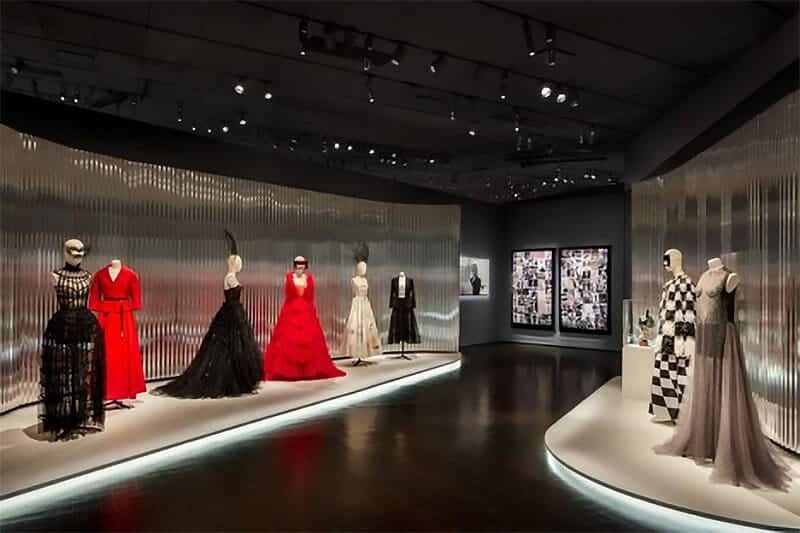 Art gallerist. Legendary couturier. Fashion icon. These are just some of the phrases that can be used to describe Christian Dior, a revolutionary in the world of fashion since World War II.
The 2019 Dior: From Paris to the World exhibit showcases the 70 year Legacy of the House of Dior. Featuring a dynamic selection of almost two hundred haute couture gowns, the exhibition, located at the Dallas Museum of Art, places an emphasis on Dior's global influence. Guests who browse through the exhibit can also view accessories, original sketches of Dior's work, videos of the dresses on the runway, exclusive photographs, and other material from the archives.
"The history and impact of The House of Dior is the result of a convergence of several artistic directors who have made visionary, yet distinct, contributions to the French haute couture house," stated Sarah Schleuning, The Margot B. Perot senior curator of decorative arts and design at the DMA. "The exhibition takes audiences through more than seven decades of innovation, bringing together the most exciting, dynamic, and pivotal pieces."
Also included in the exhibit are designers Yves Saint Laurent, Marc Bohan, Gianfranco, Ferré, and other influential artistic directors who have taken design inspiration from the expansive Dior collection. Group experiences were also conducted, where patrons could enjoy an intimate look at the exhibit with a tour guide while the area was closed to the public.
"Extending across fifteen spaces and as many themes, it plunges the visitor into the history and extraordinarily rich heritage of the House, and traces the birth of icons such as the ageless Bar jacket," the Dior website describes. "The result is a dialogue and an interaction between the timeless elegance and revolutionary vision of Christian Dior, the creative daring of Yves Saint Laurent, the soft lines of Marc Bohan, the flamboyance of Gianfranco Ferré, the extravagance of John Galliano, the purity of Raf Simons, and the feminist viewpoint of Maria Grazia Chiuri."
VIP Transport was proud to assist with this high fashion collection. Our VIP Transport Fine Arts Division, which specializes in fine art and museum exhibits, used six climate controlled trucks to transport these valuable, delicate displays to the Dallas Museum of Art. We were honored to be trusted with such a historical exhibit of the fashion industry, and feel confident in saying that when it came time to transport the gallery, it was placed in the most capable hands.
To learn more about the exhibit, click here.
Making-of 'Dior's From Paris to the World' exhibition at the Dallas Museum of Art