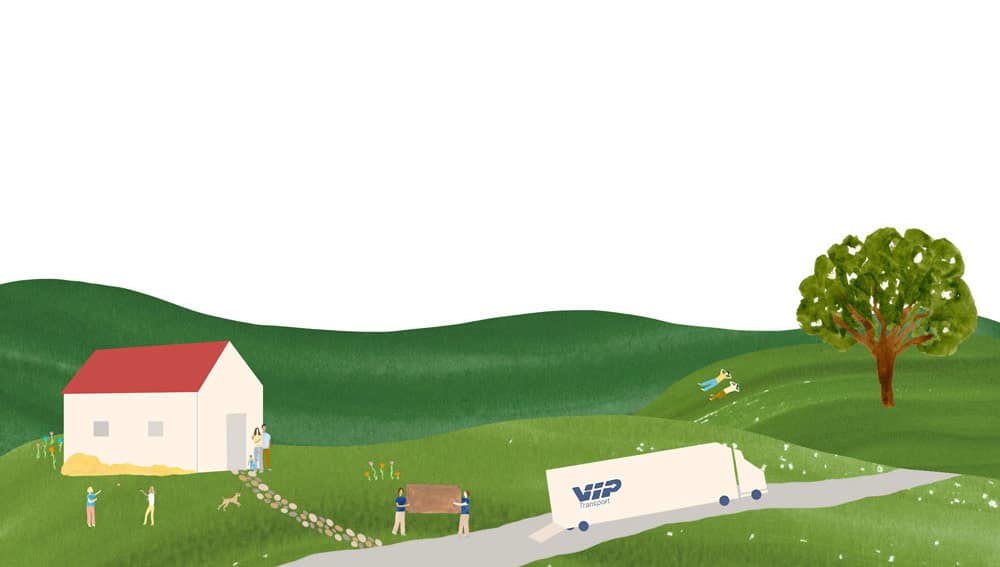 You'll become a professional packer. A super planner. You might get to play with bubble wrap. And you'll probably get lost.
These are all things that happen when you move. They say home is where the heart is. Maybe that's why, at first, moving can seem like an overwhelming challenge. How can you get moovin' and groovin' when you're caught up in all the hustle and bustle of a move? Here are 7 great things that happen when you move for you to focus on instead.
You'll Find a New Beginning
Everyone's always in search of that elusive "fresh start." You've seen the books about it, the articles with five easy steps to finding it, the friends who are asking just how to get it. There's nothing like moving to really bring that new chapter to you.
Not only will you be exploring a new area, you'll be able to reinvent yourself, or find how you fit into the new experiences that are going to unfold around you. When you move to another place, don't view it as an end, but the beginning of something special.
You'll Make New Friends…
For many, this is the scariest part of moving to a new place: how will I make friends? But, like we said, great things happen when you move. You'll be a little bit outside of your comfort zone, so you might naturally feel more inclined to go out there and talk to people. Join a group, head to the dog park, or use an app that helps connect people to one another. Search for people who have the same hobbies as you to reach out to, so you have something in common to bond over. Before you know it, you'll have some fast friends: making one new friend often leads to other new connections.
…And Keep the Old
When you move to a new place, you might be thinking: I'm never going to see my friends from back home. The good news is, with a little thing called technology, you can FaceTime yourself into any living room in the world to spend time with your loved ones.
The other good news: moving has a way of making friendships stronger. Ever see an old friend and it's just like you picked up from where you left off, years ago? Good friends that last forever will never change.
You'll Discover Your Favorite Places…
Moving to a new place naturally means you're going to go exploring. A quick Google search or scroll through Yelp will start you on your journey to unearthing the hidden gems in your new city. Ask those new friends you're making where they love to go for a walk, what their favorite restaurant is, and where to find the cutest coffee shop in town. You can even ask them to give you a guided tour – it's always fun to watch someone experience your beloved spots through new, fresh eyes. This is a time to try different things, get a feel for your area, and to start picking up on the local know-how.
…And Grow a Fond New Appreciation for Your Favorite Haunts
Even when you're exploring new ground, you'll always have fond memories of your old favorite places. It's easy to look back with longing, but you can flip the script. Treasure the memories you have of that great deli on 7th, the cute dates you went on in town, and the old movie theater. Now, you get to recreate those memories in a new place. If you think of past memories with a new perspective of appreciation, it will make you excited to get out there and make some new ones.
You'll Get to Redecorate
It's probably a fact that your home will never be as clean as the time you first move in. This is the time to invent your space. Turn it into exactly the house you've always wanted. Buy a new plant, get a few new pieces of furniture, and create your dream home. Now is one of the best opportunities you're going to get.
You'll Have a Lot of Excuses to Eat Take Out Food
And, finally, when you're moving in, there's going to be a time when your kitchen isn't fully set up yet. When you're still deciding where to put those pots and pans, it's a fun reason to go order some fast food and have a feast.
If you're looking for a moving company near you, you've come to the right place. No matter the move, VIP Transport, agent both for Mayflower moving and United Van Lines, can make it an easy one. We want to make your move the most positive experience that it can be. Let us help. Call today and get ready to be treated like a VIP.