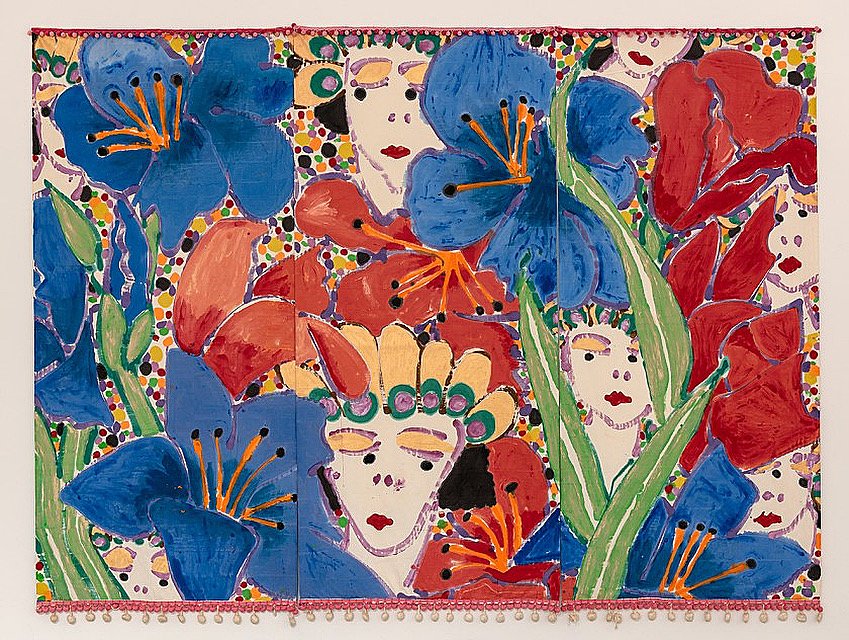 Now on display at the Hessel Museum of Art, With Pleasure: Pattern and Decoration in American Art 1972–1985 is the first of its kind.
Never before has there been a full-scale survey of the American Art movement, complete with sculptures, paintings, ceramics, performance documentation, installation art, and collages. The entirety of the collection features approximately fifty artists, all from across the United States.
These artists were called pattern and decoration artists, meaning they used patterns like patchwork, floral, arabesque, and more to often create intentionally over-the-top designs between 1972-1985. They often used unexpected materials to create their art in addition to traditional paints and canvas, like lithographs, tiles, cross-stitching, and even costumes. A large part of the movement was born out of a pushback against minimalist works of art, meant to its opposite. Much of the work that was being produced was also thought to have a feminine edge to it.
"I question the negative connotations of fabric, of ribbon, of lace. I turn these symbols of our imprisonment around," said Miriam Schapiro, one of the most prevalent pattern and decoration artists of the time. Her art contained feminist overtones, and used depicts fabrics like bows and ribbons all in one explosion of color intertwined together. Her femminist collages became known as femmages, exploring how unique fabrics could be all worked together into one piece.
At the time, there were a sizable amount of people who criticized this type of art, because they didn't think it was legitimate. It didn't follow the modern style of art that was being done at the time, and was put down as being too gaudy and not very sophisticated.
New York Times critic Holland Cotter wrote that "In the neo-Expressionist, neo-Conceptualist late 1980s, no one knew what to make of hearts, Turkish flowers, wallpaper and arabesques." But here, today this exhibit pays homage to the bright vibrancy of this style of art. Author of the 1962 canonical History of Art, H.W. Janson also said that the applied arts were "of al esser order than art, pure and simple." However, artists of the movement continued to fight back against those ideas and continue to pursue their own work.
This display was first being exhibited at the Museum of Contemporary Modern Art, or the MOCA, in Los Angeles. It was organized by MOCA curator Anna Katz along with assistant curator Rebecca Lowery. Ana Katza describes the overall mantra of the entire movement as simply being "more is more." You won't be facing whites and grays with simple patterns and modern leanings when you view this exhibit. You'll be met with a swirl of colors – and, fittingly pattern and decoration. There is no lack of texture or intrigue in the style of this movement.
From its original home at the MOCA in Los Angeles, VIP was called on to transport the exhibit to the Hessel Museum of Art in New York. Using three climate controlled vans, VIP safely transported every piece in this expansive collection in order for it to be set up in its new viewing space across the country.